About Sun N' Fun
Jim Sullivan, the sole member of Sun N' Fun Construction, LLC has been working with his hands since the age of 13, where he first learned the machinist's trade. Using these skills he acquired, he became an entrepreneur at the age of 18, by opening his own mini bike business in California. At the age of 23, Jim's patriotism brought about an urgency within him to serve his country as a Marine. After his long military career, he rejoined the private sector work force and created Sun N' Fun Construction of California in 1984.
Jim brought his business to Tucson, Arizona in 1996. With over 28 years in the construction trade, Jim prides himself on performance in producing quality construction at the lowest cost possible without ever "cutting corners". While the anticipation for a completed construction project can be an exciting time for a real estate owner, it can also be a very trying time with all that can go wrong without a knowledgeable, experienced contractor to help make the process a hassle free experience. Just getting permits approved and working with site inspectors to pass building inspections can be difficult for the average person. Jim brings to all his construction projects his experience, dedication and a "can do" attitude from the first step of planning and designing through the entire building phase.
Not all general contractors are equally created; Jim will go the extra mile in order to meet and exceed his customer's expectations. He has a "hands on" approach to construction by overseeing all projects throughout all phases from start to finish and making himself available to his customers for any questions or concerns they may have. For this reason, we have more repeat customers and have gained a great number of referrals from our past and present customers.
Jim's honesty, integrity, hard work and excellent customer service are the fundamentals at the heart of Sun N' Fun Construction, LLC. We are not just building structures; we're building relationships that last. Let us help make your dream a reality. Contact us for your next construction project.
Our Services
Concrete and Masonry
Custom homes
New Construction and Remodels
Call Jim for a FREE estimate.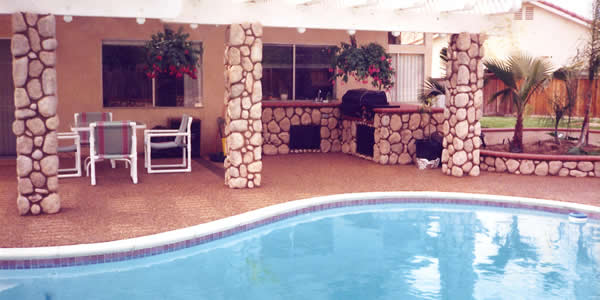 Call Jim today at 520-240-6666 for all of your construction needs.